We are facing uncertain times. With a pandemic spreading through our communities and our world, we are all thrown into a sudden new reality –holding ourselves away from each other, homeschooling our children, many of us doing our jobs at a distance. In such unprecedented circumstances, it can be hard to know what to count on. Here are three things we at Habitat know for sure.
1. There's power in community.
In this unique time, it is clearer than ever how powerful community can be. Even as we stand six feet apart, we have seen so much coming together in the past few weeks. Without touching, we have seen neighbors reach helping hands toward each other. Whether that's picking up groceries and medications for vulnerable residents, baking goodies and collecting protective equipment for our healthcare workers, or finding creative ways to support those hardest hit by this crisis – people have united in incredible ways to lift each other up and get us through this dark time. If you need some ideas for staying connected during quarantine, see our blog post here.
2. Home is at our heart.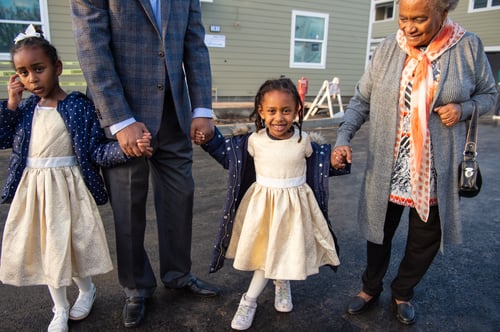 As Californians have been ordered to shelter at home, we can see how critical it is to have a home we can count on. For some of us, being asked to stay home presents an inconvenience – working out the juggle of telecommuting, homeschooling, and fulfilling our necessities while social distancing. But for many of our neighbors, the current crisis is their constant crisis to find stable housing – and these are precisely the people Habitat serves.
We know for certain what a difference it makes to have a secure, decent, safe place to call home. So, while many of us at Habitat are counting the days of this quarantine, we are also counting our blessings – and continuing to build for those who depend on us.
3. We will build forward.
We are resilient. While this is an extraordinary time, we know enough about our community to understand that we can get through this. We know that we will recover, and we will build more on the other side of this crisis.
For each of us, that building might mean something unique. Perhaps it is building on the connections we are creating with our neighbors during this time. Perhaps it is building on our relationships with our loved ones. Perhaps it is building on new habits we are working on to fill our time. Perhaps it is building on a renewed commitment to community and helping others.
For Habitat, it means that we keep building through this crisis, and we pull together the support we need to build stronger than ever afterward. We know we have much to build. And we know that with our community behind us, we will build more.