It wasn't your typical Women's Leadership Build. The event usually sees women gathered by the scores on a Habitat construction site, swinging hammers or hefting drywall shoulder to shoulder. It's a joyful combination of construction sounds mixed with laughter and conversation. The Women's Leadership Build was born of our desire to highlight and lift up the potential and power of women to lead the change in the affordable housing crisis – and the gathering of women seemed an essential piece of that process.
This year, of course, is no typical year. As our communities cautiously re-emerge from the COVID-19 pandemic, the sound of the Women's Leadership Build was more muted, a pulsing of activity throughout last month as small groups of women – and allies – gathered for intimate builds at our Oakland Workshop or online for in-depth conversations about housing. But the purpose remained the same – underscoring the strength of women as leaders and changemakers in our communities and in the housing space. And in light of the last 16 months, our inspiration burned brighter than ever as the vital importance of stable, affordable housing has been made clear in the starkest of terms.
While the home's connection to health became blindingly obvious, it also re-framed the way so many of us saw the role of home in our lives. Linh Lam, Senior Vice President and Chief Information Officer at ICE Mortgage Technology – the event's Platinum Sponsor – felt the shift. "The home had so many other purposes, too," she observed during a Zoom panel discussion. "It became not just where we live, but it became our workplace. It became schools for our children. Society was able to continue on in the way it did because people had a safe place to be. It should be table stakes for a lot of us, but unfortunately, it's not. It just highlighted how critical it is, how so many things cannot progress if we do not have the peace of mind of shelter and home."
This pandemic certainly wasn't the first time Linh recognized the importance of a stable home. Her roots are in subsidized housing, a childhood in tight quarters with four families under one roof. "When you're in a situation where housing isn't dependable, let alone safe, how can you really focus on other things like health and education and everything else that needs to be there so that you can be healthy people both mentally and physically?" she pointed out during a virtual conversation on affordable housing with Habitat and her colleagues from ICE Mortgage Technology. "When I see what Habitat is doing to make sure that we can help people get affordable housing, and then also owning these homes so that they can build wealth and equity over generations – it's really near and dear to my heart."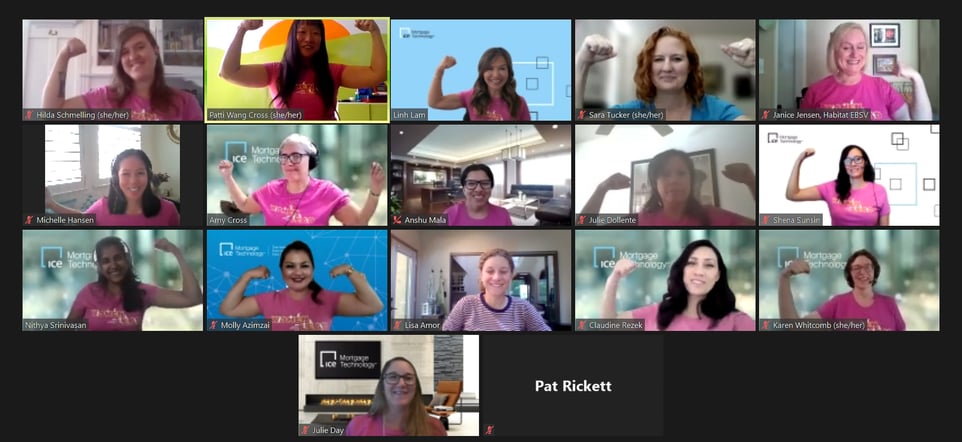 And although Linh missed the great gathering that marked her previous Women's Leadership Build experiences, she was quick to emphasize that the simple act of discussion and sharing virtual space was powerful as well: "Normally, these lovely ladies who are joining me here today from ICE Mortgage Technology – we would be rolling up our sleeves and flexing our muscles at Esperanza Place with y'all and helping you guys build like we did in Fremont two years ago, but we're here having a conversation with you. And that's what it's about. It's all about awareness. It starts with conversation."
And it's still about the power of women. As Linh says, "We kick booty! We're employees, we're leaders in our companies, we're CEOs of households, we became teachers while we were mothers at the same time, and while still working, while helping our neighbors, while coming together with Habitat for Humanity to do this build and help others in our community… We can do all these things, but we don't do it alone. We absolutely have to support each other."
And support each other, we have. Through the sponsorships, conversations, and build days, the Women's Leadership Build this year both literally and figuratively began to build the dreams of 42 families who will soon own homes at Esperanza Place in Walnut Creek. And hopefully, at this time next year, we'll do so shoulder to shoulder once again.