Do you know giving is good for your health?
Not only does giving release endorphins in the brain, which makes you feel happier and more connected, but studies have shown that it reduces stress and helps you live longer. So, it's a win-win situation.
When considering giving, the most obvious way is by clicking "Donate Now" online or sending in a check, but there are some unique ways to donate that are just as (and sometimes more) impactful!
If giving isn't in your financial plans at the moment, or you don't know how to increase the value of your gift without increasing the actual value of your gift, you can still support Habitat for Humanity with these 5 creative ways to give at the end of the year:
1. Tax-Smart Ways to Give Through Investments
Just as you've created a plan to invest and grow your finances in accounts like an IRA or a Donor Advised Fund, a Habitat family creates a plan to invest in homeownership and grow their family's opportunities by partnering with Habitat. Why not support an investment with an investment? And, as year-end approaches, you may start thinking about donations that qualify for tax savings when you itemize your deductions - donation such as: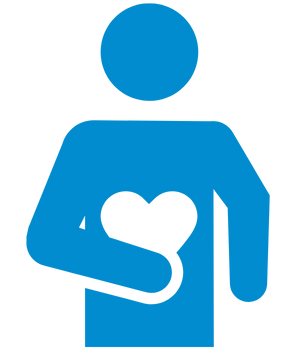 Donate From Your IRA:

If you are 70-1/2 or older, you can give directly from your IRA to Habitat! You won't pay income taxes on the transfer, and you won't need to itemize your deductions to benefit from the gift. An IRA donation is also a great option if you are required to take a minimum distribution, since you can use this transfer to satisfy your obligation.

Click here to learn about more ways that giving through your IRA can work for you.

Donate Stock:

Donating stock to support charities like Habitat has become increasingly popular, and for good reasons. Not only does the donor receive the same income tax savings as they would by writing a check, but there is the added benefit of eliminating capital gains tax on the transfer, which can be as high as 20%.

Click here to learn more about donating from growing assets.

Give Through a Donor Advised Fund:

Donor advised funds (DAF) allow you to designate organizations for philanthropic grants, either one-time or recurring. You can fund your DAF with cash, appreciated securities, retirement plan assets, tangible personal property, or real estate.

When you establish a new DAF or make an additional contribution to an existing one, you receive a federal income tax deduction for the full amount of the gift in the year it's made. If you already have an existing DAF, now is a great time to put that money to good use and recommend a grant to Habitat!

Click here to learn about Donor Advised Funds.

Donate Cryptocurrency:

Donations to nonprofits with cryptocurrencies have significant tax savings to donors. If you invest in cryptocurrency and intend to make a charitable donation, consider donating your coins directly. By making this direct donation, you can deduct the fair market value and avoid paying capital gains taxes.

Habitat is now able to accept hundreds of coins! Click here to get started.

2. Cars for Homes

Do you or someone you know have a beater of a car rusting away in your yard or garage? Have you considered a car-free lifestyle and are ready to take the plunge? If any of these apply, Cars for Homes is for you.

Habitat's Cars for Homes program accepts donations of cars, trucks, RVs, vans, boats, and motorcycles – whether they are working or not. All donations are either sold to licensed dealers at wholesale auctions or transported to salvage yards that recycle all reusable parts, with all net proceeds coming back to Habitat! Click here to donate your vehicle and arrange free collection!

3. Donate Goods

Have you wondered what to do with your old dining table and chairs? Or that bookshelf gathering dust in the spare room? Well, you can give new and gently used home goods to Habitat!

Habitat ReStores accept donations of gently used furniture, appliances, home goods, and building materials to resell at affordable prices. All money goes back into our programs, providing opportunities for families to achieve strength, stability, and self-reliance through homeownership, housing and financial counseling, and home repairs. What a great way to declutter your home and help Habitat achieve its mission!

4. Company Matching

Many companies match donations made by employees and even volunteer hours up to four times the amount. This is a great way to double, triple, or quadruple your impact! That is a significant return on investment.

On average, workplace giving raises approximately $5 billion annually for employees' charities of choice. And while this is a stunning figure, what is even more surprising is that an estimated $4-$7 billion in matching gift funds go unclaimed each year, according to America's Charities.

Many companies have deadlines at the end of the year for employees to submit their matching gifts. Don't leave this money on the table! It takes only a few simple steps to make your impact go further and help even more Bay Area families.

Click here to see if your company matches and start your match today!

5. Give Your Time

Giving your time is a great way to stay engaged in your community and help make a tangible difference in people's lives. It's also a great way to use your talents and learn new skills.

Most people think about swinging a hammer when they think of Habitat for Humanity, but many do not realize how vital this type of gift is! In fact, volunteers build 80% of a Habitat home. Our volunteers give much more than just their time on the construction site – they help us keep our building schedule on track and support families building toward their goals!

But swinging a hammer isn't the only way to get involved with Habitat; other crucial needs include helping select the next partner family or volunteering at ReStore.

Check out our Volunteer Page to learn how you can get involved!

As always, if giving by check or credit card remains the right choice for you to support Habitat for Humanity, you can donate online or mail checks to:


Habitat for Humanity East Bay/Silicon Valley
c/o Donor Services
2619 Broadway
Oakland, CA 94612

Whatever form your gift takes, you're making a tangible difference. Your support helps families like Rita's transform their lives and gain the strength and stability they need to build better futures.

Still not sure how you want to make your gift to Habitat? Our Donor Services team can discuss your options with you, so your giving plan ensures your gift works for you – while going the extra mile for Habitat, our families, and the communities we serve. Contact us today!