This is Ben.
Ben is a Regular Volunteer with our Playhouse Program!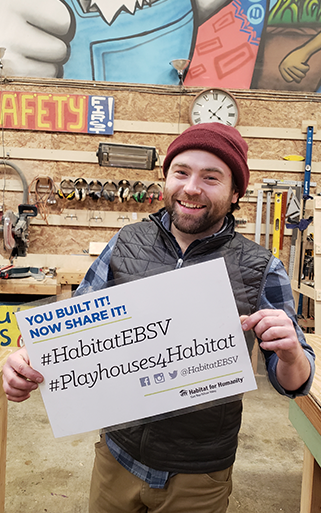 It was Ben's love of woodworking and industrial design that brought him into our Playhouse workshop in Oakland, but it was the impact of Habitat's work that made him a Regular Volunteer.
Our Regulars are critical to our volunteer program, donating their time consistently to drive our mission forward. You can find Regulars on our job sites, in our ReStores, in our Playhouse workshops, and in our offices, with people volunteering as often as monthly, weekly, or even daily.
For Ben, Playhouse is a great opportunity to build meaningful connections while making a difference in more ways than one.
"From creating the different components, to painting, decorating, assembling, and then presenting the playhouse to the kids – a playhouse takes a team to build," Ben says. That collaborative spirit always inspires him.
When Ben is helping out in our Playhouse workshop or at a build, he waits for this moment: "One of my favorite things is seeing the look on people's faces when they get into it." He loves watching volunteers get through the initial learning curve and grow enthusiastic about the task at hand. When he led a roofing crew at a recent build, this moment of transformation was memorable. "After they got their hands on the supplies and got in there, they really got into it. And that was pretty cool to see."
Ben often sees volunteers' enthusiasm turn into a newfound way to connect with each other. "You get to see people exhibit different skills in a non-judgmental type of way," he says. "Generally, people will come into the builds and be like, 'Okay, Design Department, you're going to do all the artwork.' Then, you'll hear Bob from Accounting shout, 'But I can paint really well!'" Ben enjoys the way Playhouse builds bring out these hidden talents and new bonds in a supportive, creative environment.
The building of a Playhouse is the telling of a story – the story of the conversations, laughter, and teambuilding that took place behind the painting, the nailing of shingles, the screwing in of tiny doors. But to Ben, that story is just the beginning, and the next chapter is the best part.
That's because once a playhouse is designed, decorated, and assembled, it's donated to local children. That moment – seeing children run in and out of their new, custom-designed playhouse – is the most memorable part of volunteering with our Playhouse Program. "It's gone from being a fun teambuilding activity to the realization that you're going to connect with these kids for life," Ben says. "It's going to be one of their first real memories of a thing that's theirs and that they own."
Of course, at Habitat, our work to make homeownership possible for more families is rooted in that sense of ownership, stability, and pride. Our Playhouse Program gives children a taste of that feeling, while supporting our vision of a world where everyone has a decent place to live.
"There's nothing more special than seeing the glimmer of hope in a child's eyes when they first see their playhouse," Ben says.
Thanks to volunteers like Ben, we can keep giving that joy to more children through the Playhouse Program.