Jennifer Johnson was a girl on the brink of adulthood when she moved in to her Habitat home. Jennifer was 17, being raised with her three siblings by a single father, when she stood among crews of women volunteers and raised the walls of her future home.
"I take more pride in this house," Jennifer says, "because I put a lot of work and sweat and hours into it. It makes you want to take care of it."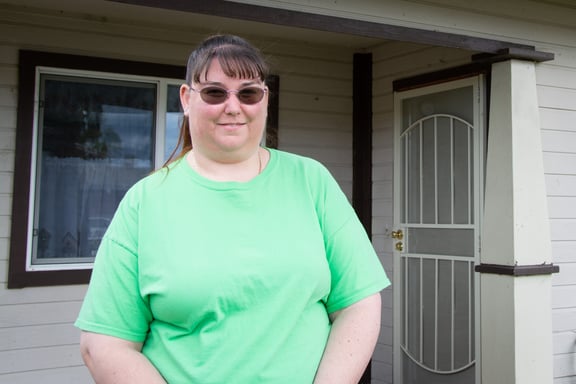 That sweat equity is still fresh in Jennifer's memory. "Sometimes when I'm in my bedroom," she says, "I look out the window and I see Mt. Diablo, and I can't believe that I had a part of this house, that my hands might have nailed up that wall."
As an impressionable teenager, Jennifer took it to heart that her home was being built by the Women's Crew, a passionate group of women building with and raising support for Habitat. "I was really excited just to help," Jennifer remembers. "The Women's Crew showed us young girls that women can do anything that men can do, as long as we put our minds to it."
Some members of the Women's Crew even took Jennifer under their wings, mentoring her in ways that her single father could not. Jennifer looks now to her own young niece and wants to pass on her Habitat experience in the hopes of setting a similar example.
"I'd like to show her one day that anything is possible, whether you're a woman or a man," Jennifer says, as she looks through mementos from the early days of her Habitat journey. "Anything is possible. You can own your own house even if you are coming from a low-income background."
Even as a girl, Jennifer helped build the change she needed in her life – from the insecurity of renting a pest-infested unit in a high-crime neighborhood to the stability of her family's own home. Now, two decades later, she looks to help a younger generation of girls build change as well.
Jennifer is just one of the hundreds of women in our Habitat families who have transformed their futures. She is just one of the hundreds of women volunteers who have raised the walls of Habitat homes. She is just one example of how women, empowered, can build real, concrete change.
With your help, we can build more change. When you support Habitat, you support families like Jennifer's, families just a hand up away from creating stronger futures. And between now and June 30th, your support can go twice as far. A former board member is matching all gifts up to $50,000 through the end of June. Give now, and double your impact!