"You truly show love in action."
That's what longtime Habitat homeowner Valerie told the dozens of volunteers eager to get to work on the final morning of our two-day Women's Leadership Build. Valerie is just 7 years from sending in her final mortgage payment for her family's home in Crockett, and she wanted to drive the point home: showing up for Habitat matters. After 11 moves in 17 years, homeownership was the stable, solid foundation Valerie's family had long sought - and on that foundation her family has seen countless memories, new careers, and an empty nest now graced with the footfalls of visiting grandchildren. "We had resigned to the fact that we were not going to own a house in the Bay Area," Valerie shared, "but in stepped Habitat for Humanity... And now, my family has an extended family, and these people are connected to us with a bond that will never go away. And guess what - you are also those people."
It was all the motivation our volunteers needed to get their hands dirty, building while bonded by a strong sense of community. Volunteers worked hard on a variety of tasks for the first 23 homes of Esperanza Place, like roofing, siding, drywall, and painting.
It was sweaty, tough work, so it helped to bear in mind what Janice Jensen, our President and CEO, said to kick off the event: "When you turn around at the end of the day, you will see change. But, know that the change goes far beyond shingles or siding."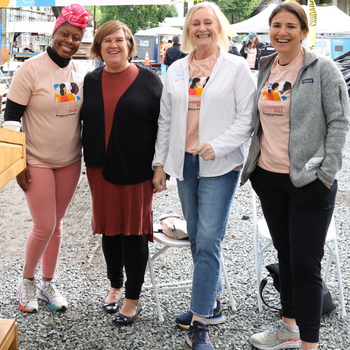 "When you turn around at the end of the day, you will see change. But, know that the change goes far beyond shingles or siding. Because when you build in partnership with families so that they can own a home that didn't seem possible - you're building walls that will house a million memories. You're building stability a family can count on, and affordability that lets them invest in the future. You're building a thriving community. You're building a host of positive financial, educational, and health outcomes that come wtih homeownership. You're building the possibility of generational wealth."

Janice Jensen
Assemblymember Rebecca Bauer-Kahan was on hand for Day 1 to get hands-on building affordable homes in her district. For her, this work is a key part of shifting our housing history. "When I bought my house in the community over a decade ago," she shared, "I remember going in to sign my mortgage papers, and the old covenant was still on my house, which said that certain people couldn't live in my neighborhood. And it was incredibly powerful to see that and to see the vestiges of what was the past here - but it continues to be a part of what it means to live in this community where it costs so much to buy a home or to rent an apartment and to be a part of our community. And we have to work to change that. We have to work to make a more inclusive community that allows everyone access to live here and to thrive."
Among those working hard to build an inclusive community were volunteers from Gold Sponsor, ICE Mortgage Technology. Stephanie Durflinger, Senior Vice President of Product Strategy, spent Day 2 on a rooftop, cutting tar paper and securing shingles in the sun. But while it may have been a tiring job, Stephanie appreciated how it connected her intimately to her everyday work. "You know, it's one thing to write code - which I don't do, by the way! - and it's a completely different thing to be here with a hammer and a hard hat and making it tangible for a person or persons who are going to be able to live here. I'm really grateful to be here. I'm grateful for the work of ICE Mortgage Technology, which facilitates homeownership in its own way, and to be here, also, with you."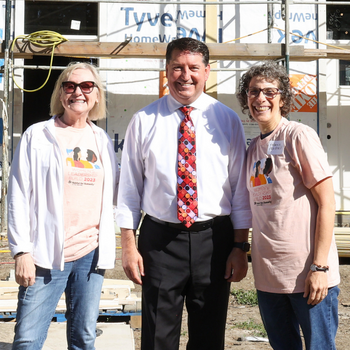 Our amazing volunteers gave us a huge production boost, cramming many weeks' work into just two days. Congressman Mark DeSaulnier and County Supervisor Ken Carlson spent some time on site to tour the work being done, and they left inspired by what they saw. Congressman DeSaulnier has been involved with Esperanza Place for years, ever since his own days as a County Supervisor, so this development is close to his heart. "You're a key part of this," Congressman DeSaulnier told the volunteers. "You, being out here volunteering, putting this up, so people who struggle with housing - as many of us do in the Bay Area - will actually have shelter, a sacred place to raise their kids... Thank you to Habitat, and thank you all. I needed some inspiration today, and you gave it to me."
Assemblymember Timothy Grayson, a longtime champion of affordable homeownership, was also inspired - so much so, in fact, that he came on Day 2 to present Habitat and its volunteers with an official Assembly Certificate of Recognition for the work being done at the Women's Leadership Build. He recalled a listening tour he and some colleagues had undertaken, learning about housing from communities up and down the state. "What I did learn - and we traveled from the northern part of California all the way to the southern border - was that few organizations, if any, were able to match what Habitat for Humanity does when it comes to building homes and making opportunities come to life for homeownership. Habitat for Humanity moves the needle for homeownership." And as our state leaders finalize California's budget for the upcoming year, Assemblymember Grayson promised to "fight all the way to the very end to make sure we retain that money that was committed" to ensure homeownership can be made affordable for more Californians.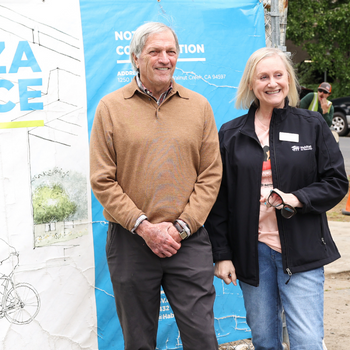 Because as Erika Vandenbrande, Community Development Director for the City of Walnut Creek, shared, it is about more than "housing units and numbers of homes. That doesn't really fully get the essence of what we're here to do now, because it's all about people. It's about community, creating community, and you're giving not only your time but your hearts and souls to make this happen."
And giving her heart and soul is something Rose knows a lot about. A Habitat homeowner for eight years, Rose returned to the site to pitch in so that more families like hers could achieve homeownership. Rose's journey was one of hard work and perseverence through stressful times, but she kept her eye on her goals - literally. To this day, Rose keeps in her wallet a piece of paper with a list of life goals she began handwriting in 2012. "In 2012, as a single mom, I realized that where I was, was not where I wanted to be... And once I got into my home, things just started to flourish from my list." Indeed, she has checked off everything from buying a home to sending her three children to college to being nearly finished with a Master's degree in Counseling. "Habitat is more than a home. It's provided me with opportunity."
At the end of the Women's Leadership Build, rooftops were fully shingled. Siding put up. Coats of paint applied. Hulking stacks of drywall readied for installation. But what these two hundred women and allies really built was just that - opportunity. A chance for families to find a stable, secure place from which to realize their goals. And the din of hammers and nail guns and circular saws was the sound of a community's love in action.