We can't say it enough – AmeriCorps service members are at the heart of Habitat and make our mission to build homes, communities, and hope possible. AmeriCorps service members dedicate one year (or like Olivia – three years!) to serving others through organizations like Habitat. Some are leading volunteers on the construction site while others are working behind the scenes in the office. These men and women share our belief that everyone deserves a decent place to live, and that is why we often ask our AmeriCorps members to apply when staff positions become available. For example, Olivia applied for our staff after three years of serving our volunteers as an AmeriCorps Crew Leader, and we couldn't be happier. Here is a Q&A with Olivia: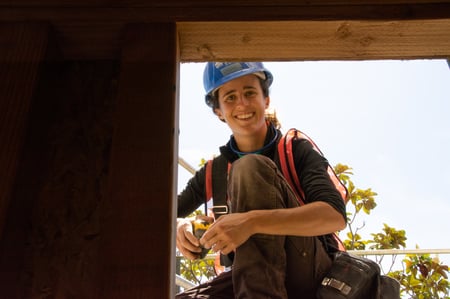 What drew you to the AmeriCorps Program?
I applied to be an AmeriCorps member with Habitat just after doing a natural building internship in Moab, Utah, with an affordable housing organization called Community Rebuilds. Once that internship was over, it was time to figure out what to do next! One of the other interns had already signed up for AmeriCorps with our affiliate. I had never heard of AmeriCorps before she told me about it, but it sounded like an interesting idea. I wanted to keep building my construction skill set, and it seemed like the perfect way keep learning.
What was your first year as an AmeriCorps like?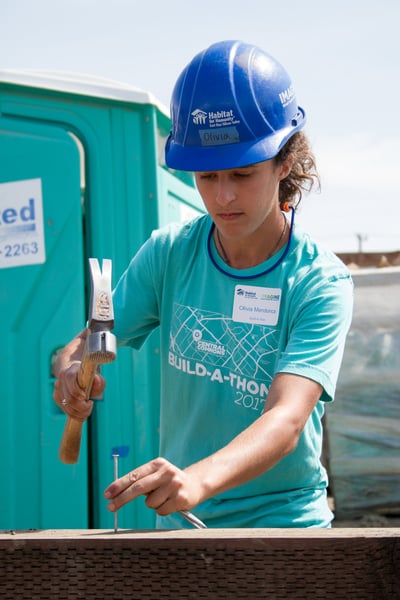 I began in February 2017, while all the other members had started in September the year before. I worked primarily in San Jose at our Vermont Street project, but also spent some time (mostly digging large holes!) at Central Commons in Fremont just as it was getting started over the summer of 2017. The other AmeriCorps members finished their terms just a few months into the start of mine, and the next group started in September, just in time for the Build-a-Thon at Central Commons. Having the Build-a-Thon happen during their second week as members seemed crazy, but no one was scared off! I finished off my first year back at Vermont Street. My first year had some challenges, but I enjoyed it and was not ready to be finished yet.
What made you decide to continue on with a second and third year as an AmeriCorps?
I knew there was lots more to learn still, and I really enjoyed the group of people I had met and worked with. I liked the other AmeriCorps members and Habitat staff, and I also enjoyed the tight knit group that the South Bay regular volunteers have. I very much enjoyed the work as well, and the feeling of fulfillment I got from it. After Vermont Street was finished, I spent basically the entirety of my second year at Central Commons. I wanted to learn more, and I also really wanted to see the end of Phase 1 at Central. I knew it would be very satisfying to see our partner families finally move in after all that time. And it was! Phase 1 finished a few months into my third year, and I was glad I had stayed to see it happen.
What made you apply to be an Assistant Superintendent?
I wanted to apply for the position because it would be a challenge and it would help me continue to grow, both in technical skills and as a person. There is only so much I could learn as an AmeriCorps Crew Leader, and I wanted to bring myself up to the next level. Applying for the job was a bit intimidating, because I often have a lot of self-doubt, and I was not sure I knew enough to do the job well. One of our regular volunteers made the point to me that this job would be the perfect place to push myself out of my comfort zone, because I am already surrounded by lots of people who know and like me, and that they would only want to help me succeed. That was good to remember. (Thanks, Bill!) And let's be real, the pay raise doesn't hurt either!
Any advice you'd like to share with someone considering AmeriCorps or looking to complete another year of AmeriCorps?
My advice would be to always remember the community that you're serving. Your year might be hard at times, and you may lose track of why you're there, but remember that all your work is helping families purchase affordable homes that will change the course of their lives. Also, don't take anything too seriously! It's more fun that way.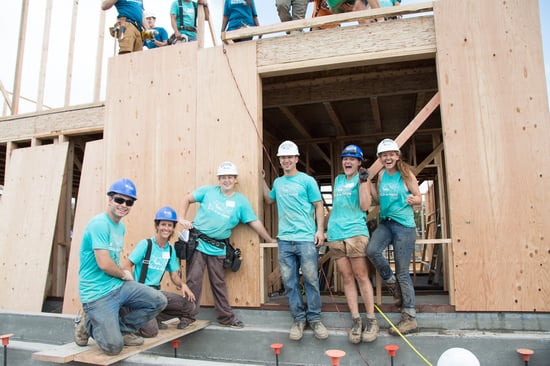 Like Olivia says, serving a year as an AmeriCorps service member with Habitat will push you outside of your comfort zone in the best possible ways. Whether you're looking to fill a gap year, build a resume, or gain experience, AmeriCorps positions are opportunities to learn new skills, meet new people, and make a tangible difference here in the Bay Area. Plus, members receive perks like an educational award to help pay for past or future education, rent stipends, and more.
Here at Habitat East Bay/Silicon Valley, we currently have the following positions available:
Habitat AmeriCorps service members play a significant role in our community. Join us for a year and build tangible change in our community as we combat the affordable housing crisis together!