Happy Affordable Housing Month! That's right, each year we spend the month of May highlighting affordable housing issues, the impact of our housing affordability crisis, and the power we have to build and advocate for positive change.
When Janice Jensen, President and CEO of Habitat East Bay/Silicon Valley, looks at our work in the context of the crisis we face, she says, "Every time we achieve even a slice of impact, I count that as a success." But, what does that impact look like, and how do we get there? This year, we wanted to take a step back and break down what housing affordability truly means, and the ways we can create affordable housing solutions.
What is affordable housing?
It's no surprise to anyone in the Bay Area that we are in the midst of an affordable housing shortage. Our news feeds are rife with stories about the high cost of housing and a lack of supply of decent, affordable places to live. But what does affordable housing really mean? "The federal government typically defines housing as affordable when it consumes no more than 30 percent of a household's income," according to Local Housing Solutions.
Unfortunately, one in three households across the nation exceeds this bar, even pre-pandemic. In fact, many families pay over half of their income to stay housed – one in seven households around the country – a predicament known as being "severely cost-burdened." Here in California, the situation is even more dire, with one in five households experiencing this severe cost burden.


But, think beyond the facts and figures of the affordable housing crisis. Think about what it means to be a family paying over half their income to keep a roof over their heads. It means being forced into impossible choices. When you have less than half a paycheck left over, how do you choose whether to pay for food, healthcare, transportation, utilities, or childcare? How can you invest in extracurricular activities, further education, financial goals, or retirement? Affordable housing issues like these leave so many people and families just a single paycheck away from catastrophe, and unable to weather emergencies. And after the year we have all faced, we can all understand how vital that is.
How did the affordable housing crisis start?
The housing affordability crisis is rooted in a number of factors.
The rising cost of housing is simply outstripping income growth. In short, people's incomes overall are not rising at the rate at which housing prices are going up.
Meanwhile, for-profit developers have little financial incentive to cater to low-income housing and affordable housing, so what housing does get built is by and large tailored to people and families at the higher end of the income spectrum.
In addition, government regulations like zoning laws can limit the amount of housing that can be built, restricting supply, while approval processes can cause ballooning schedules and development costs – costs which result in higher housing prices.
On top of this, government funding has been unable to keep pace with the vast need for housing. Affordable homeownership – a key focus for Habitat – is particularly difficult to create. "We have the lowest rates of homeownership in California since the 1940s," says Janice. "And what government funds do flow into affordable housing tend to go toward homelessness alleviation and affordable rental housing – which are critically needed. But affordable homeownership is often left out."


What's more, a history of systemic racism and unjust housing practices like redlining have created inequalities in access to housing and, in particular, homeownership. "If you really want to look at fostering racial, social, and economic equity, homeownership is key," Janice points out, "because it's wealth generating. And there's a major racial and economic gap when it comes to homeownership. Our focus on affordable ownership housing, it's also a focus on justice and equity, principles that go all the way back to our roots on a cooperative farm in Georgia."
Why is affordable housing important?
Of course, if yours is one of the millions of families struggling with a severe housing cost burden, substandard conditions, or the threat of displacement, affordable housing issues hit very close to home. But what if you're lucky enough to be housed within your means? Why should housing affordability matter to you?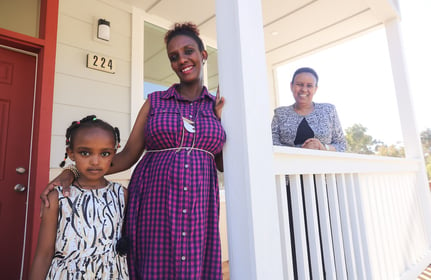 It matters because this crisis affects us all. "Stable housing – housing that is safe, healthy, and affordable – is foundational to individuals and families, to the communities in which we live, and to the economies in which we all participate," according to Habitat for Humanity's Cost of Home initiative. In other words, when more people and families can be stably, decently, and affordably housed, we all win.
This availability of stable, decent, affordable housing is connected to more stable families and communities, the opportunity of economic mobility, increased community and civic engagement. Having an affordable home means being able to invest in things like healthy food and preventative care – not only resulting in healthier families, but reducing the burden on our emergency medical system. It means the ability to go out into the community and spend money on goods and services. It means a vibrant, connected community that supplies those goods and services and houses those who provide them. It means businesses that are able to attract and retain a talent pool when its workforce can afford the cost of housing. It means improved educational and employment outcomes. It means families that can escape poverty and create strong legacies for future generations.
Click here to experience the Cost of Home
Well, what's standing in our way?
The housing crisis is complex and stems from a multitude of factors. We also face a breadth of obstacles and challenges as an affordable housing organization. Some of those are barriers to development. "There are challenges to development all over the housing landscape," says Janice. "However, there are many legislators at the state level trying very hard to streamline this process. At times, we face challenges at the local and regional level, working through ordinances and zoning regulations. All too often, this can prevent affordable housing projects from moving forward because it can be difficult to navigate this labyrinth."
Availability of land, particularly here in the Bay Area, is also a problem. With land at such a premium in the region, it can be difficult or even impossible to come by, particularly for affordable housing.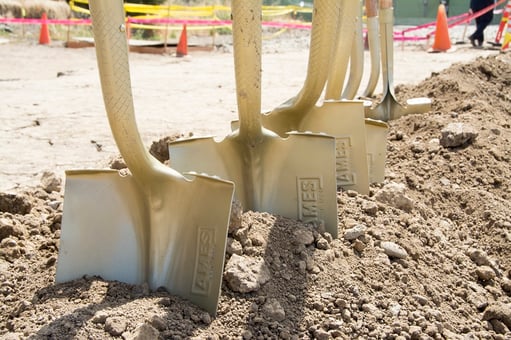 Those zoning restrictions can present a significant challenge to creating more housing, as many areas are zoned specifically for single family housing.
Of course, financing is a huge issue – or the lack thereof! "We can't raise money fast enough to keep pace with the rising cost of building," Janice says. "Right now, for instance, lumber costs 70% more than it did 18 months ago. Costs have gone up across the board – land, materials, and more."
Also, community resistance to affordable housing can be a substantial barrier. This sentiment, often known as "NIMBYism" (Not In My Backyard), can make affordable development difficult, but often, it stems from myths about affordable housing. "The first and biggest myth about affordable housing," Janice says, "is that it will degrade surrounding property values. That is simply not borne out in the data." Some also feel that affordable housing will have a negative impact on the character of a neighborhood. However, by building on infill lots and with the neighborhood character integrated into our design, Habitat works to create beautiful, decent housing that seamlessly blends with the surrounding community. "We're talking about a wise use of land," Janice points out. "We're not building massive high-rises. Our land here is so limited, so that with what little we have, we want to provide the best housing we can."
However, Janice believes that connection and community are key. "I believe that by engaging more people in our work, it's a way to effect change in that resistance. The one thing I know for sure is that anyone who spends a day on a Habitat construction site, working alongside a future Habitat homeowner, will come away with a new perspective."
How do we solve the affordable housing crisis?
Well, that's what Habitat for Humanity is about: building a world where everyone has a decent place to live. Here at Habitat for Humanity East Bay/Silicon Valley, we're particularly proud of taking a unique approach to the crisis, a matrix of affordable housing solutions that is comprehensive and fills critical unmet needs in our communities.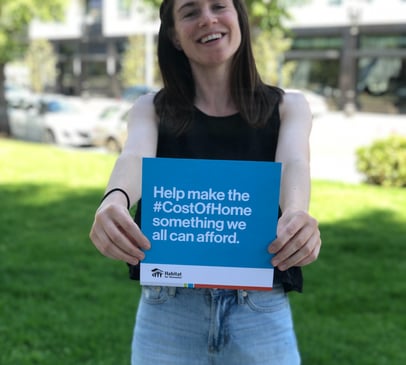 At Habitat East Bay/Silicon Valley, we face the housing crisis on a number of fronts. Our Homeownership Program creates new, affordable ownership housing opportunities for families with limited incomes – families priced out of the chance at homeownership on the open market.
Meanwhile, our Home Preservation Program serves low-income homeowners facing maintenance and improvement needs beyond their reach. We keep these people and families in their homes with important repairs and modifications that enable them to age safely and comfortably in place – while preserving the vital affordable housing stock we already have.
At the same time, we prepare more people for homeownership, better housing opportunities, or other key goals in their lives through our Housing and Financial Counseling Program. We also partner with other agencies and organizations to serve even more housing needs like emergency interim housing for our unhoused neighbors.
However, no single solution or program can address the complex home affordability challenges in our community. So, we supplement these efforts with advocacy. Habitat for Humanity's national Cost of Home campaign aims to improve home affordability by influencing local, state, and federal policies by advocating for systemic change.
A five-year advocacy campaign, Cost of Home aims to ensure 10 million people have access to an affordable home by working to influence policies at the local, state, and federal level. Cost of Home is focused on four pillars of advocacy. First, we support policies that increase the supply and preservation of affordable homes. We also aim to equitably increase access to credit, supporting policies that offer more opportunity for safe and sound credit to underserved communities. We also want to optimize land use for affordable homes, so we advocate for policies that reduce the cost of building, promote fair housing, and fully reflect community needs. Lastly, we work to ensure access to and development of communities of opportunity – which means advocating for policies that protect and strengthen neighborhoods and enable them to thrive.


Janice believes there's reason for hope in the current climate. "One of the things I feel hopeful about is the partnerships we are building. We need more housing, and Habitat is part of the larger community trying to build more housing," she says. "Whether you're building high-end homes or building housing for our unhoused neighbors, we're all sharing best practices now and working together to create more housing. I've been in this space for 16 years, and I've never seen so much cooperation and collaboration in the housing sector, along with government, that will enable us to provide more housing, period."
What about me? What can I do about this crisis?
There is plenty you, as an individual, can do. Just by reading this far, you've invested in educating yourself about our housing affordability crisis and learning about ways to take action. And the good news is, there's plenty of action to take.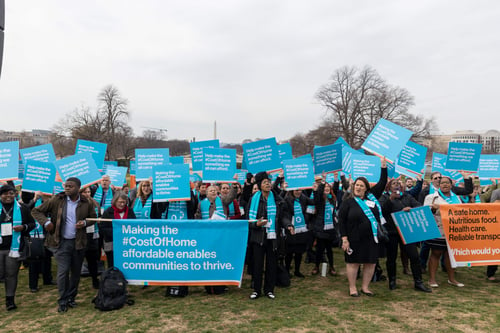 First of all, get involved with Habitat! There is a multitude of ways you, as an individual, can have a concrete impact on this housing crisis by giving and volunteering. Every dollar and every hour creates a real, profound community impact.
Or, bring others along with you by getting your friends and family, or even your corporate or faith community involved.
You can engage with Habitat's Cost of Home initiative and let your legislators know you support affordable housing in our communities.
However you work to address housing affordability, you can make a difference. "I can't not be optimistic about our work," says Janice. "The milestones we witness, not just of buying a first home, but seeing some of our families pay off their mortgages and live mortgage-free. Seeing kids grow up and achieve great things and go on to have stable housing as well. Seeing all the people we offer a hand up to a secure, safe, stable place to live. That, to me, is inspiring. It's reason to have hope, and it's worthy of celebration."